About Me
I'm an Implementation Specialist, Adobe Launch Expert, and Amateur Console Refurbisher.
A few facts about me:
I love Bourbon.  Favorite bourbon cocktail is a mix of 1.5 oz Woodford & 1.5 oz of Disaronno Amaretto Liquer
I'm a bit of a nerd, I love retro video games, Magic: The Gathering, and finding new mods for old video game consoles.
I love watching soccer, I'm an ardent Columbus Crew supporter despite living in FC Cincinnati territory.
I love craft beers, especially stouts and sours.  I like to track the ones I drink all over the world.
Speaking of around the world, my favorite place I've ever been to is Sydney, Australia.  Next city down under I want to visit is Melbourne!
I love playing Broomball (even though I'm pretty awful at it).  I am a winger.
Oh, and I have a crazy Goldendoodle, see below: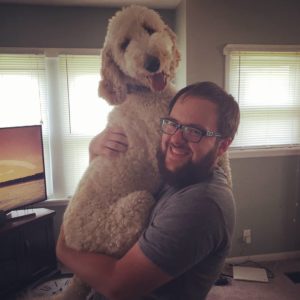 She hates being picked up BTW, but we're working on it.